There are always certain vacancies in every organization for which employers are not sure whether to hire a permanent employee, so we offer Temporary to Hire Services. For some tasks, it is difficult to judge the abilities of the candidate on the basis of interviews or tests. With the help of our Temp to Hire Solutions, our clients can try out the staff or a particular candidate before extending the offer for the job. By doing this our clients can get the right match by observing and testing the needful skills and qualities of the candidate and can save themselves from making expensive mistakes.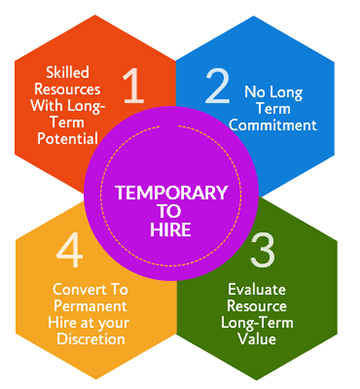 Get hires with myriad skill sets ready to serve various industries and needs, for short and long term projects. And if you find them a perfect match, make them your strength
We conduct extensive industry research on the basis of which we evaluate the skills of the candidates. This helps us to provide the right talent for the right position.
Several programs for training and evaluation for the candidates fortify us to offer you the talent as per your specific needs and requirement
Diskriter is committed to provide staffing support according to the location, availability, vacancy, designation and the number of candidates as and when required.
WHAT IS TEMP-TO-HIRE?
Diskriter understood the problem of employers, when it comes to hiring permanent employees, and the requirement of testing and judging their capabilities. In order to provide a balanced approach towards solving this problem, we offer you temp hiring services, which not only provides you flexibility within recruitment process, but also ensures continuity of your business operations, which means consistent revenues and profits.
With temp to hire services, you can ask for an on-demand workforce, which is agile, flexible and result-oriented. Become more fluid and productive, with Temp Hiring Services from Diskriter.
HOW WILL IT WORK?
Organizations now have the liberty to hire employees on temporary basis to assess the skill and caliber of the hire, just like the temporary staffing solutions which we already provide. However, with temp to hire services, your business can now permanently hire that temporary employee, if he or she meets all your expectations.
WHY TEMPORARY-TO-WORK IS A BETTER OPTION FOR YOUR BUSINESS?
With this model of staffing solution, your business can:
Quickly fill in the vacant position that means none of the business operations get hampered.
You can efficiently test that candidates' capabilities and skills, without hiring him/her permanently.
During the temporary phase of employment, you can check whether that employee is able to fit culturally within the organization. Besides skillset, it is very important to consider cultural compatibility of the employee with the organization.
HOW TO PROCEED?
Email us at solutions@diskriter.com or call us at 800-242-1622 to explain your business requirements vis-a-vis temp to hire services model. Our representative will soon get in touch with you to discuss robust staffing solutions as per the organizational needs. Be assured, the temp-to-hire staffing solutions provided by us is sure to exceed all your expectations.